Four inches of rain on Tuesday helped make conditions a little more conducive to scoring on Wednesday, which surely was one of the finest weather days for golf that we've witnessed all season. Can you believe that there are only four events left to our league season? To me it feels like we've only just begun. Perhaps many of you will choose to play into the fall like we did last year?
So…. yesterday's event was a bit more interesting than most. First, because it seemed to flow … rather … slowly. So a quick tutorial on how to play faster (without rushing because nobody wants to rush). (1) know when it's going to be your turn to play and be ready to take your shot shortly thereafter (e.g. pick your club and your line while somebody else is hitting their shot… anticipate (2) play ready golf particularly after you tee off – if it's safe for you to play, then play (I understand that honors on the tee box do have some significance in our matches). (3) be ready to putt when it's your turn to putt… have your line figured out etc. please don't start from scratch going hither and yon on the green like you're Bryson DeChambeau lining up the winning putt on TV… do that while the other three guys are putting, OK? (4) Mark your scorecards on the next tee… don't stand on the green discussing how you played your last hole. (5) Lost Ball search is limited to three (3) minutes – If you fail to hit a provisional then the ball you drop in the vicinity also costs you two (2) penalty strokes (5) (I'm sure there are many more but you get the picture…)
Perhaps another reason for slow play had to do with a rules dispute. OK… rules disputes can happen. Here's how to resolve them quickly. Play two balls: one ball the way your opponent insists, the other the way you insist. Mark both scores on your card. Let your referee (that would be ME) determine the ruling. Done.
With regards to rules… One I've heard about is whether you have to play a ball that is in bounds but against the fence bordering the property on #3 / #4 … the USGA ruling:
Interference from Boundary Objects
Q. I have interference from an out of bounds fence, stake or wall – what are my options?
A. You do not get free relief from objects that define or mark the course boundary. You may not move objects marking course boundaries or take free relief from them like you would from other artificial objects, like a cart path, a building, or a stake marking a penalty area. Your options are to play your ball as it lies, proceed under penalty of stroke and distance by playing again from the spot of your last stroke (see Rule 18.1), or decide your ball is unplayable (see Rule 19.1).
Now.. with respect to ground under repair. The only ground under repair that I acknowledge is the bare ground and rock trench cutting across the 2nd hole near the green and the unfinished EDGES of the pot bunker adjacent to #5. All sand traps have been properly filled and raked by our bunker architects Casey and Dustin… frankly I've seen sloppier rake jobs in Zen Gardens… they are absolutely in play (with the exception of the unfinished edges between the vertical carpet walls and the earth)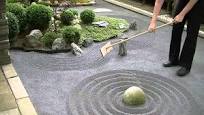 Now… if you insist that the punji sticks that I've embedded in the turf wall (guess I took that presentation from that Vietnamese golf architect a little too literally?) presents some kind of clear and present danger then of course your next shot would need to be at the nearest point of relief INSIDE the HAZARD. That all said, I will endeavor to finish the trap this week (with or without the volunteer help we've been asking for) so that this particular situation does not present itself again. (So don't be surprised if the rough stands at 8″ Wednesday)… I only have 24 hours in a day to get everything done and now I've made our pot bunker (aka The Cesspool) my priority.
I've typed plenty so do check out the standings, skins reports, etc. to get the 411 on the league this week. Congratulations are in order for James Williams, who snuck his tee shot to 22′ – 10′ inside those of John Mulloy, Rich McGlynn, and Dan Gulino to win $50… our biggest single week payout yet for closest to the pin. Next week we'll be on the 4th hole. Skins last week had multiple players all making birdie on the same hole causing a $66 carry over… add that to the 22 players x $3 +3 players x $6 gave us a whopping $150 skins pot that this week got divvied up 4 ways… Jamie Wilson scored again with the lone birdie on #3, Dan O'Neil maintained his winning ways with a lone birdie on #5, Gary Hessberger is now playing with house money with a birdie on #6 (he claims his league entry fees and skins tuition are now paid for the year!), and John Mulloy scores again with the lone birdie on #7. Skip and Thomas cancelled each other's birdies on #9… so 150/4 winners = $37.50 each